36-Bottle EdgeStar Built-In Dual-Zone Under Counter Wine Coolers Review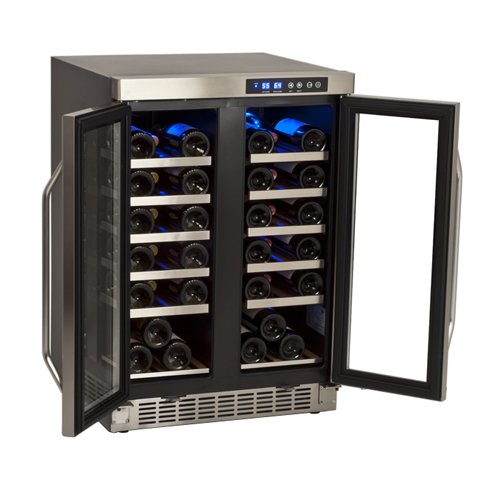 *
Features
*
Energy Efficiency
*
Quality
*
Value
**Summary** This under counter wine cooler does everything that it is supposed to do in an extremely attractive looking design.
Pros: 
It is an extremely good looking unit that will look great holding and showing off your wine collection. It comes with dual climate zones with separate doors. This unit works great as both a built in unit as well as a standalone unit.
Cons:
The unit's interior lighting is not well placed. When you place bottles at the top they block the light from reaching the rest of the under counter wine coolers. Also, the control panel doesn't lock. This is bad because the placement of the controls are in a easy place to touch. They can be touched accidentally and change the temperature you had set it to previously.
Overview of the 36-Bottle EdgeStar CWR361FD Under Counter Wine Coolers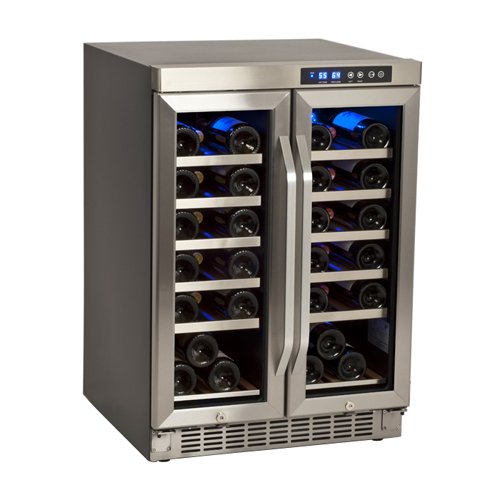 The EdgeStar is an extremely attractive option for your wine cooling needs. First, its exterior design is really attractive and will definitely fit in and enhance any kitchen or bar area you have in your house.
The fridge comes with French doors and two separate temperature zones that can be controlled independently of each other. This is especially great if you have both red and white wines in your collection sot hat you can store them separately at their optimal temperatures for better tasting and longer lasting wines.
Another great feature is that it can be both an under counter wine coolers as well as a free standing unit. The front ventilation allows you to install it flush with your cabinets, and the closed back allows you to let it to be freestanding. This fridge is truly made to fit in any situation. It allows you to fit up to 36 standard wine bottles in it on the slide out stainless steel trimmed wooden shelving. These shelves are both very practical and add to the overall appealing look. It also comes with tinted glass that allows you to still see the wine inside while also protecting your wine from harmful UV rays. The digital soft touch screen allows for easy temperature control and monitoring of the internal temperatures.
Some people mentioned that the temperature inside their under counter wines coolers seemed to fluctuate quite a bit. However, we found that if you fill up the fridge with wine, that the temperature seems to stabilize greatly.
A big problem that has been noted by other users is that this is very loud. In our testing we found that this under counter wine coolers is louder than other wine cooler but that it is not that loud. The reason is because this wine cooler has a compressor inside. Most other wine coolers have a thermoelectric chilling system. When you use this unit as a built in unit, the noise becomes negligible. However, if you are planning on having a free standing unit, and noise is one of your big concerns, you might want to consider a thermoelectric model instead.
The interior lighting in this unit is probably its weakest point. When you place bottle in the top shelves the light does not get through. It does not actually provide enough light to read the labels, and is much more effective at providing mood lighting than functional lighting.
If you are looking for a great looking unit that comes with great features this is definitely one you should consider.
Close up Pictures of the Under Counter Wine Coolers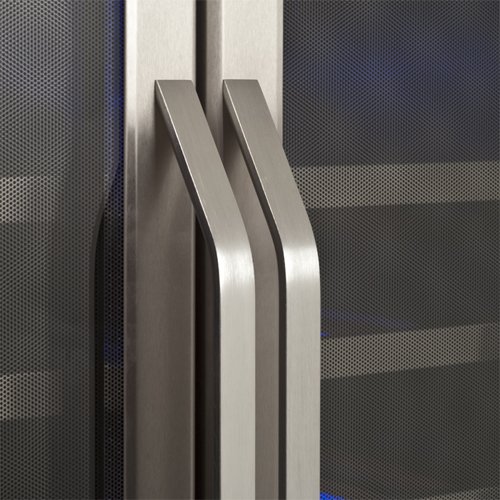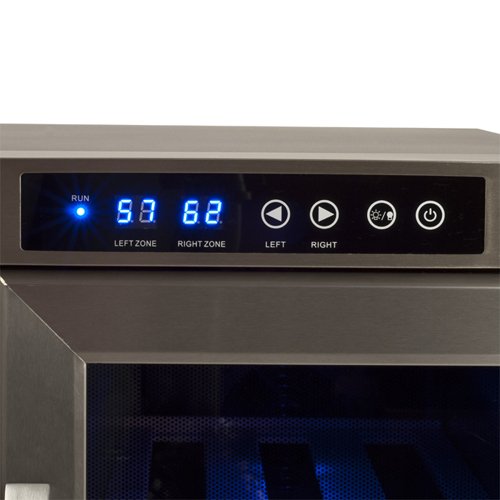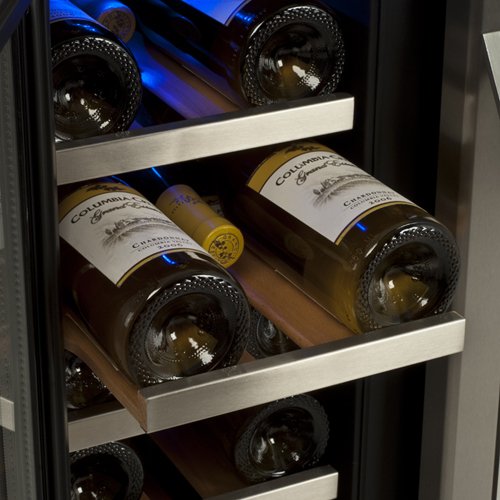 Specifications
| | |
| --- | --- |
| Spec | Details |
| Width | 34-1⁄8" |
| Depth | 24-3⁄8" |
| Weight | 110 pounds |
| ENERGY STAR Certified | No |
| Cabinet Side Color | Black |
| Door-Handle Color | Stainless Steel |
| Counter Depth | Yes |
| Height to Top of Refrigerator (in.) | 34-1⁄8" |
| Depth Without handles (in.) | 22-5⁄8" |
| Total capacity (cu. ft.) | 36 standard 750 mL wine bottles |
| Refrigerator Shelf Construciton | Stainless Steel Trimmed wood shelves |
| Number of Shelves | 10 |
| Temperature Control Type | Digital |
| Surface Finish | Smooth |
| Style | Under Counter Wine Cooler |
| Child Lock | Yes |
| Door-Open Alarm | No |
| Number of Doors | 2 |