Reviews - Top 5 Beer Fridges to Buy - Update 2017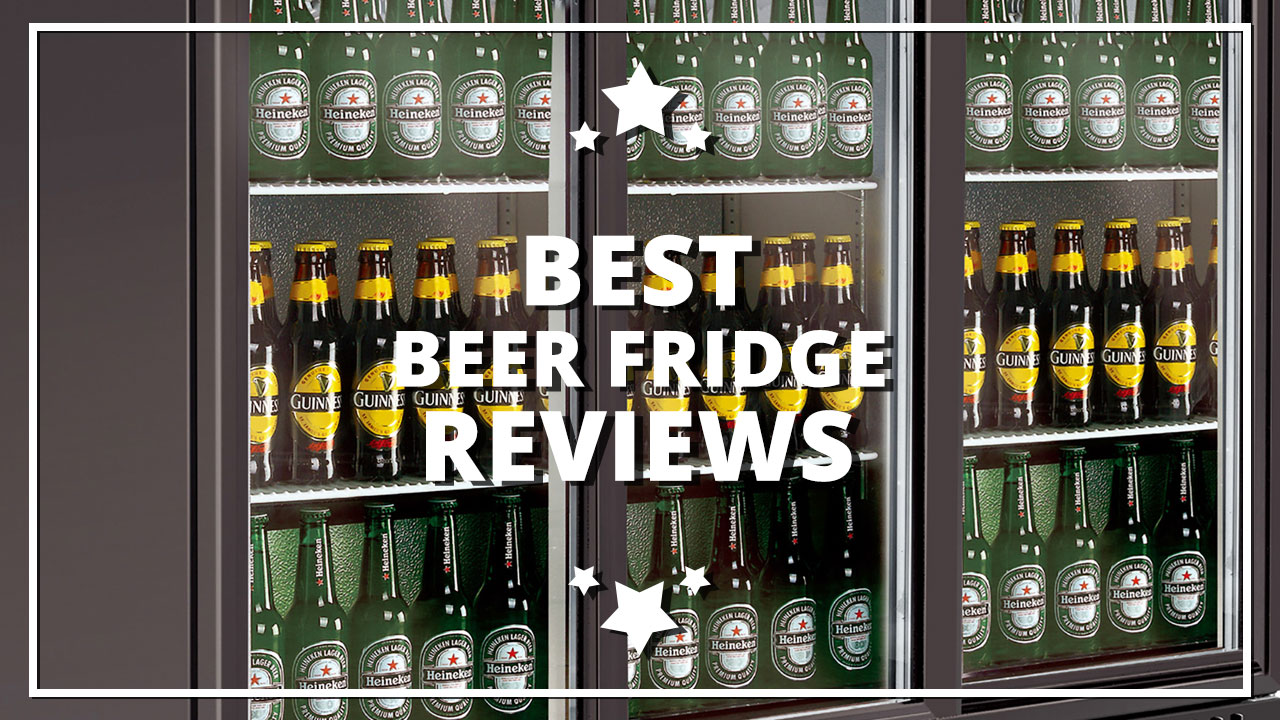 For those that entertain guests on the game day, or just need a personal vault to turn to when you need to crack a brew open after a long day, finding the best beer fridge is always an investment.
If you're a big beer drinker, you'll understand the struggle of having to dig past the mayo to reach your favorite cold drinks in the large refrigerator. Beer lovers know that large refrigerator is not designed to hold beer. Keeping your drinks at wrong temperature won't give you the best taste and truly is a waste of fine beers.
That's why we man need a separate place - a beer fridge - to store our favorite suds.
But picking the right beer fridge that gives you a precise control of temperature, an efficient storage space, as well as reliable performance could be tricky. As you probably know, buying the wrong one could lead to wasting money on warm beers after hardware electrical failures or other headaches set in.
This review will guide you to find the best beer fridge that suits your need, whether it's hosting parties or dealing with the end of your day at your leisure. Rather than the fancy options, we chose to focus on the models that are popular, affordable, user-friendly to help you find the most practical options.
We also took time to read hundreds of reviews from previous buyers to see if the fridges live up to their claims. Finally, we came up with five beverage centers we think are worth for money.
Table of Contents
Buying guide - What you should consider when choosing the best beer refrigerator for your need.
Beer fridge is not an old refrigerator that your wife doesn't want anymore. They are specially designed to keep your beer bottles or cans at the proper temperature for your personal taste.
Some even state that beer fridge is a must to completing your man cave, your dorm room, to safely and securely storing your beverage of choice.
But beware, not every fridge you find is going to be what you expect. Picking the best fridge is going to come down to your needs.
The main factors to consider are pretty straightforward; this can include:
1. Size, Storage Space/Capacity.
These are the most important things to consider when buying a beer refrigerator. It should be small enough to fit into your man cave, but big enough to store an equivalent amount of beer cans and bottles. No one likes waiting for their beer to chill when they could be drinking it instead.
Before buying, ask yourself that how many people are going to be using it and how often is it going to be used. Should the fridge have the freezer compartments to hold ice or frozen pizza?
Keep in mind that the larger fridges not only can hold more stuff but will also maintain the temperature better than the smaller ones. Larger fridge tends to be more energy-efficient.
If you plan to place beer fridge under the counter, please make sure to measure the size carefully. As ironically as it sounds, one of the most common reasons that buyers felt unhappy and had to return their purchase are due to their mistake to measure the size of the unit.
2. Cooling system: Compressor or thermoelectric?
Most of the high-quality beer fridge manufacturers make their products with compressors just like the full-size models. But some smaller, and cheaper models utilize the thermoelectric cooling system to chill the beverage.
Though thermoelectric (also described as "superconductor") refrigerators are good for chilling drinks, they cannot maintain the temperature below 40 F degree. If your taste prefers ice-cold beer, you'd want to choose the fridge made with a compressor to make sure it gets cold enough.
This is an example of thermoelectric refrigerator: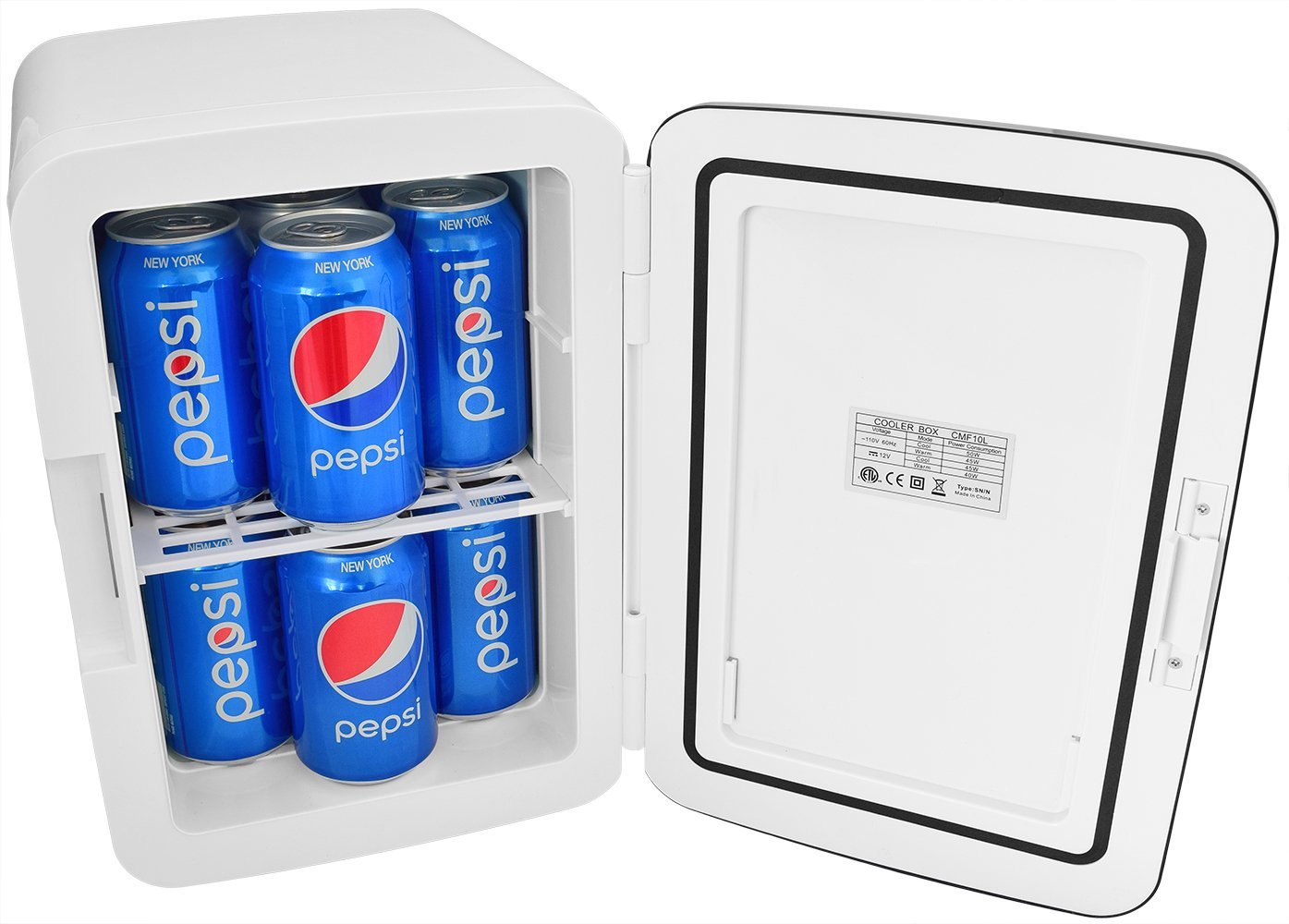 3. Temperature control.
We want to make sure the beer gets cold enough. Look into adjustable controls for different types of beers. Most wine refrigerators only get to around 43 degrees, which is barely enough for beer, but not ideal. Below are the different temperatures that you want to keep your beer at for optimum taste.
Very cold (0-4C/32-39F): Any beer you don't actually want to taste. Pale Lager, Malt Liquor, Canadian-style Golden Ale and Cream Ale, Low Alcohol, Canadian, American or Scandinavian-style Cider.
Cold (4-7C/39-45F): Hefeweizen, Kristalweizen, Kölsch, Premium Lager, Pilsner, Classic German Pilsner, Fruit Beer, brewpub-style Golden Ale, European Strong Lager, Berliner Weisse, Belgian White, American Dark Lager, sweetened Fruit Lambics and Gueuzes, Duvel-types
Cool (8-12C/45-54F): American Pale Ale, Amber Ale, California Common, Dunkelweizen, Sweet Stout, Stout, Dry Stout, Porter, English-style Golden Ale, unsweetened Fruit Lambics and Gueuzes, Faro, Belgian Ale, Bohemian Pilsner, Dunkel, Dortmunder/Helles, Vienna, Schwarzbier, Smoked, Altbier, Tripel, Irish Ale, French or Spanish-style Cider
Cellar (12-14C/54-57F): Bitter, Premium Bitter, Brown Ale, India Pale Ale, English Pale Ale, English Strong Ale, Old Ale, Saison, Unblended Lambic, Flemish Sour Ale, Bière de Garde, Baltic Porter, Abbey Dubbel, Belgian Strong Ale, Weizen Bock, Bock, Foreign Stout, Zwickel/Keller/Landbier, Scottish Ale, Scotch Ale, American Strong Ale, Mild, English-style Cider
Warm (14-16C/57-61F): Barley Wine, Abt/Quadrupel, Imperial Stout, Imperial/Double IPA, Doppelbock, Eisbock, Mead
Hot (70C/158F): Quelque Chose, Liefmans Glühkriek, dark, spiced winter ales like Daleside Morocco Ale.
4. Adjustable shelves
Adjustable shelves are important because beer doesn't come in one size or shape. Though it is not the end of the world, it is not ideal to store beer on its side. Depending on what type of beer you are going to be putting into your beer fridge, consider nonpermanent shelves that can also accommodate larger bottles.
5. Appearance
Pay attention to the color, the finish, beer fridge looks better if it blends well with your man cave. Another consideration is glass door or no glass door. The glass door provides the best visibility of the beer and subtly brags to your friends that you are a true beer aficionado. It also visually shows you how much beer you have left.
6. Mobility
If you plan to throw a party outside, choosing the models with caster wheels is a great idea. Mobility will also put an ease on movement for access and cleaning.
7. Ventilation
The freestanding model has the back ventilation which requires empty space to let the excess heat dissipate. If you want your beer fridge to squeeze into enclosed space, or fit perfectly under the counter, make sure to opt for the built-in model which has a front ventilation.
8. Price, of course
Consider these aspects to make an intelligent buying decision regarding what your need is. For those that are trying to fit a beer fridge into their office, you can afford some luxury by having choices on the design aspects and the general appearance/spacial capacity of the fridge.
Fridges that would be best used for outside/garage settings tend to be mostly more resilient and easily transportable, having wheels easily added on or harder exteriors to withstand scratching and dents. Considering space available, the size of the fridge and it's storage capacity, and requirements for ventilation can save numerous headaches that lead to many reviewers being unhappy with their purchase.
Top 5 Beer Refrigerators to Buy in 2017
Any of these would be great buys. Much of it comes down to personal preference and how much beer you want to store at one time.
1. The Garage Ready: The Igloo FR329 Fridge Tool Box
For those just trying to have something when working in the garage on a special project or outdoors and need quick access to a cold refreshing beverage, products like the Igloo Fridge Tool Box make sense due to their minimized size and appropriate appearance.
Product Details
Capacity: 3.2 Cu Ft (Can fit 24-36 cases of beer)
Size: 18 x 20 x 32 inches
Cooling system: Compressor, to keep your drinks perfectly cold all with low energy consumption
Temperature control: Adjustable from 1 - 7 that could keep beer ice cold
Adjustable shelves: Yes, two shelves that slide in and out of slots at different heights. You can adjust to the height you want and/or completely remove the shelves altogether.
Appearance: 1 door in red color
Interior: Crisper, door can-dispenser, and drip tray
Ventilation: Back.
Caster wheels: Yes, four caster wheels. Wheels can be removed in case you want to have it on a shelf.
Addtional features: N/A
If you want an inconspicuous place to store cool beverages, the Igloo FR329 is one of the best available. Its appearance is that of a red, compact, tool box that functions as a fantastic beer fridge for garage. With 3.2 cu ft capacity, you have plenty of room to keep beer and other refreshing drinks and snacks closely at hand. This fridge features a crisper, a small dispenser for cans, and a moisture collection tray, it helps prevent mess, protect your garage floor, while focusing on convenience. This includes its small size with caster wheels for easier moving or transportation.
Many users report on how it works perfectly for keeping any beverage ice cold and storing as many drinks as you would need within reason. The Igloo FR329 can be used for more than just beer, with spaces specifically designated for keeping fruits, veggies and other snacks perfectly fresh long past what other fridges are capable of thanks to the compressor unit.

Notice that the Igloo is a conventional mini fridge with a small freezer up top. That means temperatures up top are going to be colder than at the bottom, so be careful when positioning your beer—cans may start to freeze if they're on the top row for too long. It fits an impressive 100 cans, so you can even use some of that space for salsa and onion dip, some of deli cuts. Also note that the Igloo FR329 does not come with an interior light. But being all white inside in its size makes it very user-friendly.

Pros:
Perfect design for easily blending in with any man cave or office.
One of the best-priced fridges for its cooling capability, size, and design.
Keeps beverages and more ice cold despite any outside climate.
The caster wheels allow you to move this toolbox everywhere effortlessly.
Quiet operation
Cons:
The most common complaints come from the packaging and the dented exterior metal sheeting. Be careful, find Igloo a safe place far from heavy tools and equipment.
2. The Best with Glass Door: Danby DBC120BLS 120 Can Beverage Center
Currently being the Amazon's #1 best-seller, Danby DBC120BLS is the perfect choice for those who want to host the party for big sporting events, whether they are Olympics, football or hockey finals. When friends and family stop by, you want to serve them the cold beverages while watching TV together or just enjoying the company, don't you?
Product Details
Capacity: 3.3 Cu Ft (Can fit up to 120 cans of beer)
Size: 19.8 x 17.9 x 33.7 inches
Cooling system: Compressor.
Temperature control: Adjustable from 43-57 degree F.
Adjustable shelves: Yes, three wired shelves that slide in and out of slots at different heights.
Appearance: 1 tempered glass door with stainless steel trim and black body.
Interior: Interior light illuminates compartment when door is opened.
Ventilation: Back.
Caster wheels: No.
Addtional features: Recessed side mount door handle and integrated lock with key.
The Danby 120 is lauded as one of the best beverage cooler for its price point and durability for storing beer and other drinks. Unlike many of its competitors in its price range, the majority of the costs go toward its design elements from its steel materials to its relatively light weight. Not to mention, it is much more indiscreet in how well it can blend in any room yet still be eye-catching depending on its location, this stainless steel fridge is spacious with the capability of holding over a hundred cans.

Without having to deal with the dingy off-white plastic and useless spacial designs of other fridges, the Danby 120 Can Beverage Center stands out amongst beer fridge reviews.
The appliance fits in any setting and has elements of its design that can help protect beverages and other delectables by keeping them airtight secured in its adequate temperature controlled vacuum.
The door can open from both the left or right side with easy adjustability. It comes with built-in security. A locking mechanism included, keeps your drinks completely safe. The settings for temperature changes is easy to use. It's simple to program the temperature between 40 and 55 degrees Fahrenheit.

Pros:
Efficient use of the space, it can fit 120 cans in just 3.3 cubic feet. Without any protruding part, fitting this fridge into your home or office is a breath of ease.
It can maintain temperatures anywhere between 43 and 57 degrees Fahrenheit, ideal territory for ales and other darker beers, and a lot of drinks.
Security lock included for no extra cost. That's important for people with kids, and for added security, if you live in a shared space or are installing this in an office.
Smooth and superior design made only of glass, steel, and wire.
Perfectly adjustable for left and right-handed users opening.
Cons:
Some buyers reported hearing some noises from the compressor system.
A few buyers reported having poor experiences with Danby customer service.
It doesn't get super cold. If you're looking for something to keep your beers ice cold, you'll probably want to opt for beer-froster. Nevertheless, this is an ideal choice for beer drinkers who like darker ales and other brews that like slightly warmer climes.
3. The Best for Beer Bottles: Whynter BR-130SB
If you prefer bottles over cans, consider Whynter BR-130SB as the best for your money. The Whynter BR-130SB fridge has the perfect amount of space for drinks, especially the bottles.
Product Details
Capacity: 5.75 Cu Ft (Can fit up to 120 standard 12 oz. cans)
Size: 18.5 x 33 x 17 inches
Cooling system: Compressor with internal air-cooled system.
Temperature control: Adjustable from 30-mid 60 degrees F.
Adjustable shelves: Yes, five slide-out wire shelves
Appearance: Glass door.
Interior: Soft interior LED lighting with on/off switch.
Ventilation: Back.
Caster wheels: No.
Addtional features: Reversible door hinge
The sleek design with stainless steel trimmed glass door and soft LED lighting are that make many buyers fall in love with this fridge for the first time. More than that, this fridge is equipped with the powerful compressor and internal fan-forced circulation for even temperature distribution throughout the cabinet, guarantees to keep your bottle at ideal temp and deliver you the best beer taste.

Whynter has come with five adjustable shelves allows storing drinks in different sizes, which is critical for beer bottle drinkers. Just remove the unnecessary shelves, and it's ready to place your favorite suds.
It's larger than other fridges but has flexible storage space. The energy savings make it perfect for running without racking up a large electric bill. Its new model is consistently reviewed as a top tier choice.

Pros:
Sleek and high-end design.
It has a very energy efficient cooling system.
It is sizeable with expansive storage space for holding volume.
Quiet operation
Cons:
Although the internal fan does its job to maintain the even temperature, some users reported the frozen bottles on the bottom row if the temperature is set too low.
Not suitable for outdoor use.
4. The Best with Tap: EdgeStar Full Size Kegerator and Keg Beer Cooler
Easily the most party-oriented choice on the list, this kegerator beer fridge is perfect for those that want something that can be used for entertaining large parties whilst still being usable the rest of the time.
Product Details
Capacity: Holds US Standard 1/4 and 1/2 Kegs. Does NOT support use of Coors, Miller, rubberized or other oversized kegs.
Size: 48.5 x 20.1 x 24.8 inches
Cooling system: Compressor.
Temperature control: Adjustable from low 30's to mid 40's degrees F
Adjustable shelves:
Appearance: One door in black color
Interior:
Ventilation: Back.
Caster wheels: Yes, locking wheels offer mobility for easy transport.
Addtional features: Protective metal floor plate for added durability, two piece drip tray, chrome safety rail and reversible door
The EdgeStar Full Size Kegerator and Keg Beer Cooler has ?? cubic feet of space and can be used to keep either a full keg of beer perfectly chilled or a half keg and up to thirty-five of your favorite beverages and dips in one convenient upper compartment.
This fridge comes with a CO2 tank, easily adjustable/lockable wheels that make it easy to move around a party or take with you on the go for outdoor events. Its usefulness extends beyond just party settings, with adjustable racks that can be used to convert it into a usable beer fridge in the home.

Pros:
Designed to serve draught beer, perfect to serve draught beer while throwing party
Best buy in its price range
Runs quietly, dependable and easy to clean.
Offer great experience for a smooth pour
Cons:
Not suitable for outdoor usage.
Most unhappy reviews go towards the delivery. So if you want to avoid, go to the store and pick the fridge up.
5. The ultra low-temperature beverage cooler: SPT BF-314U Stainless Steel Under-Counter Beer Froster
Like super ice cold beer? This product is for you. SPT BF-314U is the most affordable beer froster model that could go low at 27 degrees.
Product Details
Capacity: 2.9 Cu Ft (Capacity: 12 fluid oz. aluminum bottles x 56 or 12 fluid oz. aluminum cans x 90)
Size: 22.4 x 15 x 34.5 inches
Cooling system: Compressor.
Temperature control: Adjustable from 23 to 41°F
Adjustable shelves: Yes, four wired, removable shelves with six available places to slide in the shelves.
Appearance: Black cabinet with stainless steel door.
Interior: Soft interior light with independent switch.
Ventilation: Front.
Caster wheels: No.
Addtional features: Memory IC (unit resumes operation at previous setting after a power failure), changeable temperature scale display (°F or °C).
If you prefer super ice cold to frosty beer, then beer froster is the best option. Unlike freezers that freeze your beer and blow up your cans, beer froster is designed to hold beer just above the freezing point for a long time.
And if your taste is high-end and chic, you'll fall in love with this model appearance at the first time. Stainless steel looks blends well with your furniture, as well as island kitchen.
The LED display gives your room a hint of high tech. The temperature controllers are awesome allows you to know exactly the temp inside, you are free to set the temp you want your drinks to your preferred chill.
SPT BF-314U is designed with front ventilation, allows flush built-in application and the 15" width is perfect for replacing old trash compactors, fit perfectly under the counter.

Pros:
Gets cold extremely quickly, so opening and closing frequently isn't an issue.
Physical key lock
Control setting lock
Front ventilation allows to be installed free standing or built-in under counter./Great under counter refrigerator – we installed in the kitchen island
Digital thermostat with external readout for easy and accurate temperature control
Stainless steel door and professional handle add modern luxury to any setting
The lock is on the front door, and two keys are provided to provide extra security.
Cons:
A little noisy when compressor fan cycles, not suitable for a home theater room.
Irreversible door